Latest update - November 25, 2016


This Weeks Happenings Around the Area
Tuesday(s) Nov 29, 7-10 (Rock Hill) ** My understanding is that this class is not running during the month of October, please call Celebrations before heading out to this class.
- Line Dancing at Celebrations at the Ramada on Cherry Road/I-77. Starts at 7 pm and goes until 10 pm. Admission $5
Wednesday Nov 30, 7:00 (Charlotte) - Country night with dance lessons Lynn's Dance Club, $6, Lessons start at 7:15
http://www.thelynnsdanceclub.com
Friday Nov 25, 7:30 (Waxhaw) - Line Dancing at the American Legion, 801 East South Main St. No age limit or partner required. Beginner to intermediate dance levels. Call 704-843-9119 or visit www.waxhawlinedancers.com.
Friday Nov 25 6:30 (Charlotte) - Dear St. John's Dance Group:

You are warmly invited to join the Charlotte Zodiac Dance Club for an evening of variety dancing with the live band Magic from Anderson, SC. Plus--we will have a two-step lesson for one hour before the band plays. The dance floor is big enough to give room for all dancers, Line of Dance dancers, line dancers and variety dancers. The band plays a variety of dance rhythms including shag, swing, waltz, cha-cha, slow, two-step, line dancing and whatever.

DOORS OPEN 6:30 p.m. FOR VETERANS DANCE

VETERANS DANCE, FRIDAY, NOVEMBER 25

Zodiac will have our Annual Veterans Dance to recognize and honor all Veterans on Friday, November 25th. We urge all of our Veterans to attend and invite other Veterans to this dance. Our Veterans Dance is a highlight of our dance year. Everyone enjoys and appreciates this dance. The Band Magic does an outstanding military presentation.

At 8:00 p.m., we will present the colors and the band will play the Military Theme Songs for each branch of the Armed Services and invite the Veterans to come to the front while their theme song is being played to be recognized and honored. The wives and families of Veterans will be asked to stand for recognition. We ask that the Veterans remain on the floor and allow the ladies and those gentlemen seated to come out on the floor and ask a Veteran to dance.

7:00 p.m. FREE TWO-STEP LESSON

Bill and April Bragg will teach several Basic Two-Step steps that will prepare you to dance a Two-Step at all of the Variety Dances. Every DJ or Band at all Variety Dances plays several songs that are good Two-Step dances such as Boot Scootin' Boogie and others. Bill and April are great instructors and currently they are teaching Two-Step on Wednesdays at Lynn's in Charlotte. They teach various dances throughout the Carolinas. Check out their website at billandapril.com

During both band breaks, we will play Two-Step and Line Dance music. We will also be Line Dancing during the songs that the band plays. Come prepared to dance. This will be an evening for a great variety of dancing including shag, cha-cha, swing, waltz, rumba and slow.

ADMISSION
Members: $10
Guests: $12
Join for $20 and get in free that night.

DRESS CODE
Up-scale Casual

RAFFLE
50/50 Raffle Tickets:
$5 for 14, $3 for 6, $1 for two
Fifty-percent goes to winning tickets drawn at the dance.
Fifty-percent goes toward expenses of dance.

SNACKS
Bring snacks to share if you care to do so.

LOCATION
Charlotte Zodiac Dance ClubI
American Legion Post 380
4235 Tyvola Road, Charlotte

Latest Choreography
Something To Talk About - 32count improver dance, no restarts or tags - Jan 2016
Click for video
Click for Dance Sheet
April's Waltz - 24 count beginner waltz - Jan 2015
Click for video
Dance Sheet
PERCOLATIN' 2014 Style - 32 count Int dance, no restarts or tags! Teach Video
"Fire & Ice" Dec 2013 - 32 count high-beginner line dance.
Demo Video

"Shorty" Dec 2013 - 32 Count Intermediate line dance
"I'm Yours" Jan 2014 - 32 Count Improver, choreorgraphed with Amy Christian.

"Hall Of Fame" - Jan 2013
My special thanks to Will Craig for working with me to choreography a dance to Hall of Fame together.
Click Here for a StepSheet

"Never Ever" - Dec 2012 to the song by Taylor Swift, look for it being taught in the area soon! Click for the StepSheet
Photo from Big Bang Dance Classic Feb 2014 - Courtesy of Epic Gear Photography - www.epicgear-photography.com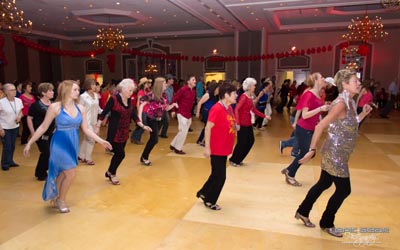 Photo from Big Bang Dance Classic Feb 2014 - Courtesy of Epic Gear Photography - www.epicgear-photography.com



Teaching "Fine By Me" at Thoroughbreds as a fill in.


Photo from Big Bang Dance Classic Feb 2014 - Courtesy of Epic Gear Photography - www.epicgear-photography.com

Celebrating my choreography win for my new dance "Fine By Me" Video




Photo from Big Bang Dance Classic Feb 2015





On FaceBook? Check out the following dance groups:
Charlotte Area Line Dancers
South Carolina Line Dancers

Fun WCS Video - John Lindo at MadJam 2011


Dancing the Carolinas
We developed this website to provide information about dancing in the Charlotte North Carolina area, including upstate South Carolina, as well as a portal for staying in touch with family and friends.
We teach and dance different styles from country western to ballroom and currently offer line dance, swing (east & west), night club-2, two-step, choreographed couples lessons and we do private parties and events. You may notice after surfing this website that our couples dances are usually taught as programs and not long term running classes, this is because we're currently searching for a location to hold a weekly dance and lesson. You may also notice that we don't hold weekly classes during the summer months, this is because attendance falls off during the summer. However, this summer we have arranged dance "Field Trips" to different clubs and lessons between Columbia and Charlotte, each week we email our dancers the "Field Trip" for the week and so far we're having a great time with it.
As dance instructors we list information about our classes, as dancers we are happy to list dance events and classes being taught in our area. I enjoy posting local events because sharing information will lead us all to new dance opportunities and friends. To learn how to have your event posted please look under the "Local Events" menu pick.
A question that is often asked is "Do I need a partner?" for line dance the answer is no, most line dance classes that run weekly are designed for you to just show up and start learning. In our line dance classes we teach a new dance each week and review the dance from the previous week. We rotate between a few levels of dance so each week there will be a dance reviewed or taught that a beginner can learn. For couple's classes we try to pair up those that do not have a partner, please email us in advance of the class and we will work with you.
New Dancer?
If you're new to dancing or plan on attending a class please read the New-Bee page under "Our Classes"; there is a lot of good information on this page including information and links to footwear. I will also be updating this page very soon with additional information you need to know for dancing in clubs.
Fun Fun Fun
April and I really enjoy attending a dance or lesson we have never been to before, we have done this for ye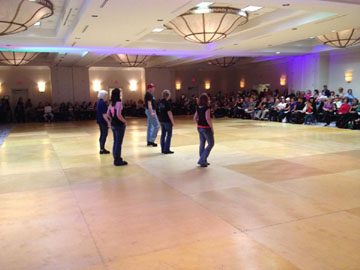 ars. The more instructors you take lessons from the better off you are; get out of your comfort zone and travel to other locations, you will quickly learn a variety of dances and make new friends.
Some groups take their dancing more serious than others, my most memorable times have been spent with dancers who like to have fun on the dance floor and making mistakes is part of the fun. So save the serious times for the private lessons or workshops and dance to have fun!


Dancing Tips
Quoted From Central Home - Dance Resources site

"Line dancing is a great way to work on body and foot technique. I still hear how many people can't stand line dancing and I think it is because they haven't tried it recently. No longer is it just t
o country music, line dancing is to every kind of music from swing to top 40 pop. Its fun and it teaches us coordination. This is how some dancers learn to syncopate for west coast swing or cha, its a chance to work on feet instead of lead and follow. Its great exercise and challenging to say the least. Line has come a long way in the past 10 years or so. It may not be the greatest thing to sit and watch but it sure is fun to participate. Give it a try, work on foot positions, foot placements, arm styling, Cuban motion etc and you will find it improves your couples dancing as well."